This post brought to you by Miracle-Gro. All opinions are 100% mine.
Being that spring is still barely starting in Montana, I am getting antsy to start my gardening! I love the smell of soil, the cool water on my fingertips and just being like a kid again and playing in the dirt! The ground is softer outside, but I worry about planting things yet as we still have snow occasionally, so I found inspiration in Miracle-Gro's, "The Grow Project" and did an indoor terrarium!
This terrarium took me very little time, but allowed some creative edge and dirt digging to commence and that made me one happy woman!
What is The Gro Project?
Miracle Gro wants you to find inspiration and "roll up your sleeves" to get started on your gardening projects, indoor and out!  I find gardening very relaxing and it allows me to make living works of art! That's what The Gro Project is all about!
Watch this video and find out what inspiration you can get by joining the movement!
Here's how I made my mark on my spring gardening with this simple terrarium:
You will need:
A clean glass container-this can be any size. I used a giant brandy snifter I got at Walmart (where you can find plenty of Miracle Grow products, by the way!)
Plants of your choice-use indoor plants like succulents, cacti and even small indoor foliage
Craft rocks or glass rocks
Small garden statues or decorations
Optional: Moss or Shake'n Feed All Purpose Plant Food from Miracle-Gro
1. Start by washing your container and throroughly drying it. You don't want it to be wet when you add the Miracle-Gro Moisture Control Potting Mix. The Moisture Control Potting mix is important because you don't want too much or not enough moisture in the kinds of plants you will be using for this project and since it will have no drain holes in the bottom, it is vital you keep the moisture at optimal levels.
2. Add a small amount, about an inch of Miracle-Gro Moisture Control Potting mix to the bottom of your container. I used a soup ladle for this as it helped me make less mess and allowed me to pat it down nicely.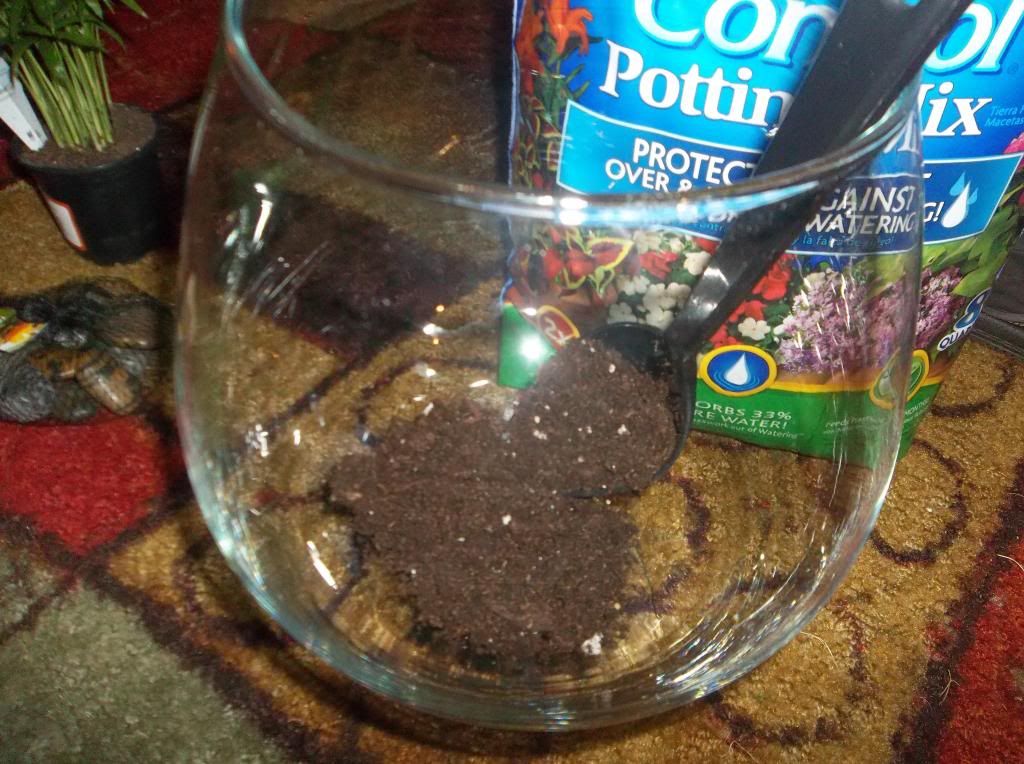 3. When you have enough soil in the bottom of your container, gently add your choice of plants. I used some indoor foliage as I thought it kind of looked like a mini-palm tree.
4. Add enough soil around the roots of the plant to make it stable.
5. This is the fun part! Add your decorations and rocks in any way you choose. I am hoping to get some sparkly gems to ad to it down the line. Don't you just love that mushroom?
6. Gently water it. Not too much, but enough to moisten the soil. How often you water will depend on the plants chosen.
Looking for more inspiration and fun garden projects? Make sure you check out more from The Gro Project on Miracle Gro's facebook page and join the movement! Also, for more projects, take a look at Miracle Gro's Pinterest boards!
Having trouble this season or just need some advice? Check out the Miracle-Gro website for tips!